WKC Licensed School – Badges
We welcome you aboard and look forward to working with you to help you grow your martial arts business!
To get you started, we have created some online badges for you to display on your website, so that your potential customers can see that your business has the support and is backed by a reputable martial arts brand.
Sign up to the WKC Licensed Newsletter:

If you haven't done so already, please be sure you have signed up to our newsletter so you receive monthly business tips, instructional videos and how-to guides to help you to effectively market your business to the right people at the right time.
Download our badges:
We have create 3 badges that you can upload onto your website. We recommend putting the below logos in the footer of your website. You can also write a short sentence to let your customers know what this badge means "(your school name) is accredited by and follows the standards and best practices set out by the World Karate Commission."
Option 1: Vertical badge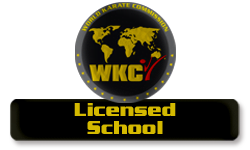 download this image
Option 2: Horizontal Badge Small


download this image
Option 3: Horizontal Badge Large

Please contact us if you have any troubles installing your badge.